iDeposit
Deposit checks from the convenience of your home or office with Planters iDeposit. And, learn about our newest product, iDeposit Mobile. In a snap. It's in the bank!
Make deposits anytime. Day or night, weekends of holidays – from any location with a PC, Internet connection and compatible scanner.
Access your money faster. The sooner you can make deposits, the sooner the funds can be available.
Save time and travel. Banking hours and traffic are no longer a concern, and preparing deposits electronically is fast and easy.
Safe and secure. The iDeposit software integrates completely with the Planters Bank security system.
Reduce your risk. Faster check clearing lets you react sooner on returned checks, increasing your collection opportunities.
Easy to Use 
Scan checks at your desktop. Use a supported scanner and scan both sides of your check. Images of the check scan appear on your screen. The dollar amount is read and a deposit transaction is created.
Submit the deposit electronically. Review the transaction, then click Submit Deposit. The deposit is sent to your account through a secure Internet connection.
Funds are deposited into your account. Electronic deposits are processed during normal banking hours.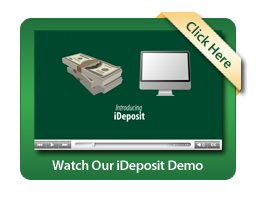 Requirements
Personal Computer running Microsoft® Windows XP®or Vista®
Internet Explorer v6 or v7 or Firefox v3 Browser with both cookies and ActiveX enabled
Browser security set to medium
High speed Internet connection
Property installed TWAIN-compatible desktop scanner
Checking account with Planters Bank
To get started, simply visit any of our friendly branch customer service representatives.