Security
We're dedicated to protecting the financial information of our customers. In addition to our diligence, there are several precautions you can take to maintain a safe and secure banking environment.

Alerts
Online Best Practices (PDF)
Protect Your Computer
Helpful Information for Check Card Use
Security Tips
Useful Links and Phone Numbers
U.S. Patriot Act
Alerts
IMPORTANT: It is possible that you may receive emails or phone calls purporting to be from Planters Bank. This is called "phishing" or "spoofing". You should be aware that we will never request personal or confidential information through email or over the phone in an unsolicited manner. The goal of spoofing is to get information such as your Social Security Number, bank account numbers, debit/credit card numbers with or without validation number, and passwords and PINS. These emails or phone calls typically imply a sense of urgency to get you to give up your information without considering the consequences. NEVER respond to emails or phone calls. If you suspect that an email or phone call is fraudulent, you should immediately contact Planters Bank.
Protect Your Computer
Invest in anti-virus, anti-spam and anti-spyware software. Make sure to keep them up-to-date. Malware, such as viruses, worms, and spyware can secretly install on your computer and collect private information. Some programs, known as keystroke loggers, can also track your keystrokes and allow passwords to be captured. Below are additional tips to protect your computer against fraudulent activity.
Make sure the latest security updates are installed.
Enable a personal firewall.
Avoid using public, insecure wireless networks and public computer terminals when performing sensitive online activities.
Avoid reusing passwords for Online Banking on other websites and services.
Helpful Information for Check Card Use
Protect Yourself From Identity Theft and Fraud
Planters Bank wants to remind you of a few tips on how to safely use your Visa® Check Card (debit card) and credit card and reduce your exposure to fraud and identity theft. Identity thieves can use your personal data to access your financial accounts, apply for loans, credit cards or other services in your name and even file fraudulent tax returns. In the unlikely event that you are affected by a lost or stolen ID, we've included some useful links to a variety of resources including our ID Safe services.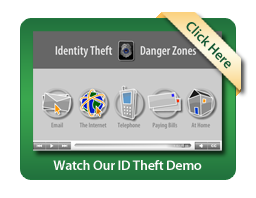 If You Are Contacted By Planters Bank
Be positive you know with whom you are speaking on the phone BEFORE giving out credit card, Visa® Check Card or bank account numbers. Planters Bank will NOT ask for your ATM or Visa® Check Card PIN (personal identification number) for any reason. Planters Bank will NEVER contact you via e-mail regarding sensitive financial information. If you receive a phone call from someone identifying him or herself with Planters Bank and you are unsure of the person's identity, hang up and call us back to verify the authenticity of the person with whom you are speaking.
Using Your Credit and Check Card Safely
Whether you are traveling, enjoying a night out or shopping, be careful and aware of your surroundings when using your credit cards and Visa® Check Card for purchases and cash withdrawals from ATMs.
Guard your card numbers
Guard your PIN
Watch for people holding cell phones near you. With the new camera cell phones, photos can be taken of your credit card, which gives them your name, number and expiration date. This information could allow someone to make multiple purchases on your account before you realize it.
Report Lost or Stolen Planters Bank Visa® Check Card
During Business hours: 1.888.806.7036
After Business hours: 1.800.472.3272
Lost/Stolen Credit Card: 1.800.854.7642
What If My Wallet Is Lost or Stolen?
Be prepared. Make a log of everything in your wallet including driver's license, debit cards, credit cards, Social Security card, etc. Be sure to include account numbers as well as the telephone contact information printed on the back of the card, so you have the information to quickly report the loss. Keep this log in a safe place other than your wallet. If you are traveling, carry a duplicate copy of your passport for identification. File a police report immediately in the jurisdiction where your wallet is stolen, which proves to credit providers you were diligent.
Immediately call the three national credit-reporting organizations and place a fraud alert on your name and Social Security number. This alert notifies companies that review your credit that your information was stolen and that you must be contacted by phone before new credit can be authorized. The phone numbers are:
Equifax: 1-800-525-6285
Experian (formerly TRW): 1-888-397-3742
Trans Union: 1-800-680-7289
Social Security Administration Fraud Line: 1-800-269-0271
E-mail Fraud
The U.S. Treasury and the Internal Revenue Service have warned of attempts to trick taxpayers into revealing personal information such as Social Security numbers, driver's license information and bank and credit card numbers. Unsuspecting consumers have received e-mail, claiming they are under investigation for tax fraud and are subject to prosecution. The e-mail informs recipients they can "help" the investigation by providing "real" information and directs them to an official-looking Web site where detailed personal information must be provided to dispute the charge.
The IRS does not use email to contact taxpayers about issues related to their accounts. Official taxpayer contact usually includes a letter on IRS stationery in an IRS envelope. IRS letters also contain a contact phone number.
Taxpayers who believe they have received suspect communication are encouraged to call a fraud alert hotline at 1-800-366-4484. You can also contact the IRS at 1-800-829-1040. An IRS representative will be able to verify the taxpayer's account status and determine whether a communication is legitimate.
Fraud Alerts Regarding Bogus E-mails From The FDIC
The Federal Deposit Insurance Corporation (FDIC) is receiving complaints from consumers who received e-mail seemingly from the FDIC. This phony e-mail gives the recipient an opportunity to secure their credit cards against fraud and to apply to be a part of a secure online network launched by the FDIC in collaboration with various credit card providers. By accessing an embedded link, the e-mail claims the recipient can sign up for a free trial membership, which provides shopping coupons for some of the more popular online retail outlets. This e-mail was not sent by the FDIC and is a fraudulent attempt to obtain personal information or to implant a computer virus onto the recipient's computer.
Do NOT access the link or attached files provided within the body of the e-mail.
Do NOT provide any personal information to unknown sources.
Other False E-mails
For example, previous bogus e-mails informed recipients that then Department of Homeland Security Director Tom Ridge had advised the FDIC to suspend all deposit insurance on their bank account due to suspected violations of the USA PATRIOT Act. The e-mail stated that deposit insurance would be suspended until personal identity, including bank account information, could be verified. This e-mail was not sent by the FDIC and was a fraudulent attempt to obtain personal information from consumers. Consumers are asked to report any similar attempts to obtain your personal information to the FDIC by sending information to alert@fdic.gov. (Electronic mail is not secure and confidential. Please do not submit personal information via email.)
Security Tips
The next time you order checks, use your first initial instead of first name in the address area. If someone takes your checkbook they will not know if you sign your checks with just your initials or your first name, but Planters Bank does. You continue to sign the checks the same as always. In order to change your printed name on your checks, stop by the nearest Planters Bank office.
When you are writing checks to pay on your credit card accounts, DO NOT put the complete account number on the "For" line. Instead, just note the last four numbers. The credit card company knows the rest of the number and anyone who might be handling your check as it passes through all the check processing channels won't have access to it.
If you have a PO Box, use that instead of your home address.
Never have your Social Security number printed on your checks. You can add it later if it is necessary, but if you have it printed, anyone can get it.
Cancel your credit cards immediately if they are stolen. However, the key is having the toll-free numbers and your card numbers handy so you know whom to call.
Make a photocopy of the contents of your wallet - copy both sides of your driver's license, credit cards, etc. Keep the photocopy in a safe place, NOT IN YOUR WALLET.
File a police report immediately in the jurisdiction where your wallet is stolen, which proves to credit providers you were diligent.
If your wallet is stolen, call the three national credit reporting organizations immediately to place a fraud alert on your name and Social Security number. The alert means any company that checks your credit knows your information was stolen and they have to contact you by phone to authorize new credit.
Carry a photocopy of your passport when you travel here or abroad.
Useful Links and Phone Numbers
Equifax: 1-800-525-6285 or visit them online at www.equifax.com
Experian (formerly TRW): 1-888-397-3742 or visit them online at www.experian.com
Trans Union: 1-800-680-7289 or visit them online at www.tuc.com
Social Security Administration Fraud Line: 1-800-269-0271
Privacy Rights www.privacyrights.org/identity.htm
U.S. Department of Justice Identity Theft Kit www.usdoj.gov
Identity Theft Resource Center www.idtheftcenter.org
U.S. Patriot Act
Important Information About Procedures For Opening Or Changing An Account With Planters Bank Section 326 of the USA PATRIOT ACT requires all financial institutions to obtain, verify, and record information that identifies each person who opens an account or changes an existing account. This federal requirement applies to all new customers and current customers. This information is used to assist the United States government in the fight against the funding of terrorism and money-laundering activities.
What this means to you: when you open an account or change an existing account, we will ask each person for their name, physical address, mailing address, date of birth, and other information that will allow us to identify them. We will ask to see each person's driver's license and other identifying documents and copy or record information from each of them.